RANALLI Newport vue 1 1024
RANALLI Newport vue 1 1024
Ce regard romantique sur la ruine va s'étendre au moyen-âge, notamment dans l'Europe du Nord où les peuples, parmi lesquels se développe un sentiment national, se cherchent un passé prestigieux.
1/1
Aux cabinets de curiosité réalisés par les antiquaires vont succéder des collections réunies avec un souci de rigueur historique. Le mot "archéologie" apparaît sous la plume des voyageurs qui rapportent de
leurs voyages en Orient des images et des objets qui vont alimenter les premiers musées.
1/1
Les premières fouilles archéologiques officielles sont celles de Pompéi (1709), qui vont également attirer des artistes ou savants effectuant leur "Grand Tour", pratique d'où est née le "tourisme".
XXe siècle : évolution vers la notion de "patrimoine"
Reconstructions / anastyloses
Petit entête
Sebasteion Aphrodisias perspective
reconstruction_avec_relief_Enée
Aphrodisias : "Tetrapylon" porte du sanctuaire d'Aphrodite
Gaudin's Fountain anastylose
colonne de Menippos remontée
tambour 1 carottage mortaises
taille_du_lit_sup._piédestal
lit sup. carrotage pour goujons
Colonne de Sextus Appuleius
colonne élév. restituée 01
tambour retrouvé après anastylose !
Colonne de Polemaios (restaurée en 2017)
Ephesus (fontaine de Polio)
It was built in the 1st century (probably 97 AD) by a rich family of ancient Ephesus, that of Offilius Proculus, who wanted to pay honors to Sextillius. Erecting buildings devoted to the Romans was common for the Ephesians in order to be in good relations with the Roman Empire.
Missing parts have been replaced by concrete structures which are not intended to look similar to the original stones. Result of an uncompromising interpretation of the "Venice Chart"
Ephesus (Nymphée de Trajan)
Ephese fontaine de trajan
The Fountain of Trajan was built to the north side of Curetes Street, in the 2nd century AD and it was dedicated to the emperor Trajan. The pool of the fountain had been adorned with statues of Aphrodite, Dionysus, Satyr and the family of the Emperor. There were also columns surrounding it.
A colossal statue of Trajan had been placed over the pool. The water was flowing from the pedestal of Trajan's statue to the fountain. Nowadays, only the feet of that statue have survived as well as a part of its facade which had been adorned with Corinthian order columns.
Fountain-of-Trajan- vue du bas
Éphèse nymphée anastylose 08
Éphèse nymphée anastylose 01
Éphèse nymphée anastylose 11
Éphèse nymphée anastylose 09
Ephesus (Bibliothèque de Celsus). Reconstruction 1970-78.
Etat avant reconstruction 01
La bibliothèque dans son contexte
restitution polychrome, détail
restitution polychrome, détail
Ephèse (Porte de Mithridate)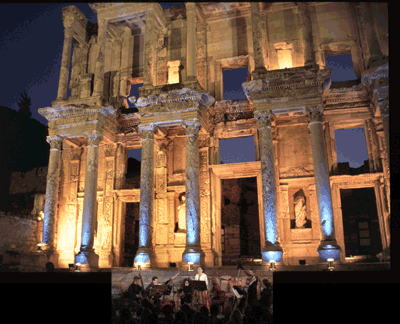 façade illuminée pour le Festival
Salle de la bibliothèque restitution
Bibliothèque de Celsus : plan
Porte_de_Mithridate_vue_gén_Sud_04
Porte_de_Mithridate_vue_rapprochée_1
Porte_de_Mithridate_détail_03
Ephèse (fontaine du théâtre)
Laodikiaia (Laodicée du Lycos)
1551475_262245433935233_1909975423_n
Laodicée_reconstructions_28
17362367_1879260985675446_7126727136498511097_n
Laodicée_reconstructions_14
17362892_1879261055675439_4418307677407275962_n
Bouleuterion avant travaux 05
Bouleuterion avant travaux 08
Pergame, Grand Autel
(reconstructed in Pergamon Museum, Berlin, 1920s)
Bouleuterion inauguration 17
Bouleuterion_vue_gén_inauguration
Bouleuterion_après_travaux_16
Bouleuterion_après_travaux_14
Bouleuterion_après_travaux_13
Bouleuterion_après_travaux_15
Pergame (Trajaneum)
Dir. Klaus Nohlen
Grundriss-Pergamonlatar_rotate
22448380_2143491849010300_7059461191512265411_n
800px-Grundriss-Aufstellung-Pergamonaltar
470729_386027704772537_1134798126_o
Sagalassos
Archaeological
Research Project
​
(Dir. Marc Waelkens)
Screen-Shot-2015-03-30-at-3.49.31-PM1
Sagalassos (North-West Heroon)
(under responsibility of Ebru Torun arch.)
northwest_heroon_Figure_2
Heroon vu de gauche biais 3
Heroon vu de gauche biais 1
Heroon vu de gauche complet
Sagalassos (Nymphée antonin)
Restoration :: 2004- 2008
Sagalassos : fontaine hellénistique
Sardes (Bath-gymnasium complex; reconstruction 1964-1973)
Sardis gymnasium-bath complex
10580238_923800824313330_4029791556849921552_n
Old Smyrna (Izmir-Bayrakli)
Premier site de l'antique Smyrne, l'acropole de Bayrakli formait une péninsule habitée dont le sommet était occupé par un temple aux formes archaïques.
mur de terrasse et accès au temple
Plusieurs colonnes ont été remontées en béton. La restitution reste très hypothétique.
Priène_t_Athéna_+_autel_persp
Priène_temple_dAthéna_ordre
Planche ordre ionique 20e